KSU: May 4 Visitors Center to be dedicated

(Photo by John Paul Filo)
(Kent) - Kent State University will hold its 43rd annual commemoration of May 4, 1970, this weekend with events taking place starting Friday evening.
The annual commemoration provides an avenue for the university community to come together to remember those lost and injured during the tragedy and also to reflect on the meaning of May 4 for today.
Dr. Carole Barbato is a professor of communication studies at KSU. She was also a student at the time of the shootings, and helped in the effort to create the May 4 Vistors Center. She talked to WTAM 1100's Darren Toms about the weekend activities: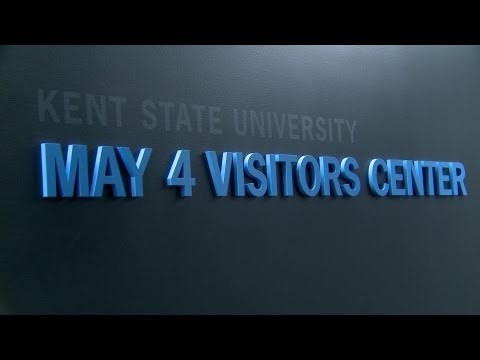 Ifill, moderator and managing editor of PBS' Washington Week and co-anchor of PBS NewsHour, will moderate a panel discussion on the "Historical Significance of May 4 and the Visitors Center," from 4-6 p.m. in the University Auditorium at Cartwright Hall.
Following the panel discussion, Stone, an Oscar-winning director, producer and screen writer, will share his thoughts on "History and Memory in Film," based on his films that depict '60s-era events, from 7:30-9 p.m. Both events with Ifill and Stone are free and open to the public, with seats available on a first-come basis. A reception will follow Stone's presentation at 9 p.m. in the atrium of Cartwright Hall.

An opportunity to "Meet the Designers of the May 4 Visitors Center" will take place from 11 a.m. to noon in the University Auditorium at Cartwright Hall on Sunday.
For more information about May 4, Kent State's May 4 Visitors Center and dedication events for the visitors center, visitwww.kent.edu/may4. For information about the May 4 Task Force and this year's May 4 Commemoration events, visit www.m4tf.org.


Get breaking news sent to your mobile phone. Text "news" to 21095.

(Copyright © 2013 by Clear Channels, all rights reserved.)